"I had the pleasure of being the RD today for the first day back to points racing in some time.  It was good to be back in racing spirit today.
First on today's agenda was spending some time training some new volunteers to do some RD work in the future.  Pat Nevitt and Steve Delvin were my assistants today, and both did a fantastic job in helping to sort out the marks, set them, call the start line, call the contacts to weather, and of course score the races."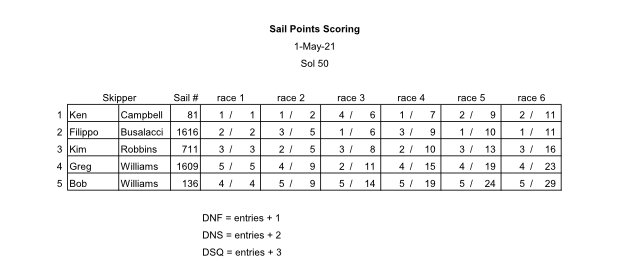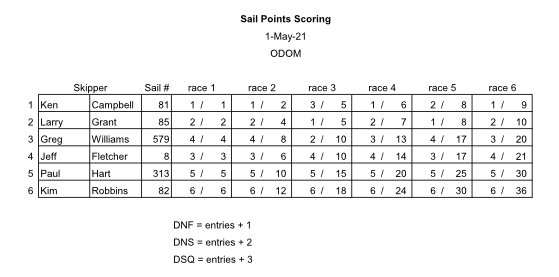 The ODOMs were next, and they two had 6 races and the clock was moved back to 2 mins. Again there was some good racing here, unfortunately Kim had to drop out before wetting the hull due to a break. A couple of races were close, but if an odom got out in the lead at the weather it was usually in the top two for sure.
A lot of port starts or immediate tack to port after starting was the theme of the day. The wind was heavily port favoring and I believe we had one boat, having been called over and last to start, played the port favoring perfectly to round the Windward marks clear ahead of the fleet. The usual holes of wind flustered a few skippers, and hence the wind from Mars comment, as it seems the water was moving but the boat wasn't. :o)
In all it was a good day back. And good corinthian sailing was done by all. And it was good to get some volunteers into the rotation soon. Oh, you are probably wondering about scores. Well that's a secret. Nah, Mr Points Campbell is working on them and will announce the results soon.
NEXT POINTS RACING SATURDAY, MAY 15.
DF95 AND IOM