DF95 – SOLD newer purple hull sailed for one season. Will add the spare yellow hull.  Comes with everything needed to be competitive. Will include Flysky radio (not shown).  In addition, comes complete with 2 – A Rigs, 1 B Rig, 1 C Rig and 1 D Rig – all in a transportable bag.  I will also include what ever spare parts I have for the DF95 (Winch, line, sail rings, etc….).  I know this may sound expensive, but trust me this is a deal considering all you will be getting: SOLD . (So there is no confusion – there is a stock C rig in the photo that does not belong and will not be included).  
Contact: rcsailfun @ gmail. com (remove spaces)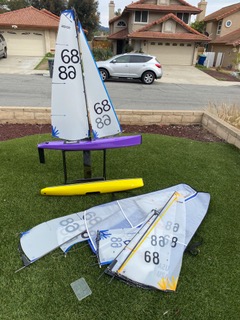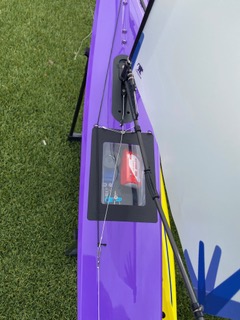 Sol50 – For Sale SOLD– I am hard pressed to let this one go – she's fast. And with the new sails from Don Lair she's even more capable. These sails are specifically cut along the lines as specified by Fillippo – and we all know how fast he can be. The sail case and stands included. There will be NO radio associated with this boat – sorry. With the new sails this is a great buy at SOLD.
Contact: rcsailfun @ gmail. com (remove spaces)